2021–22 Student Scholarships
Scholarship Applications Now Being Accepted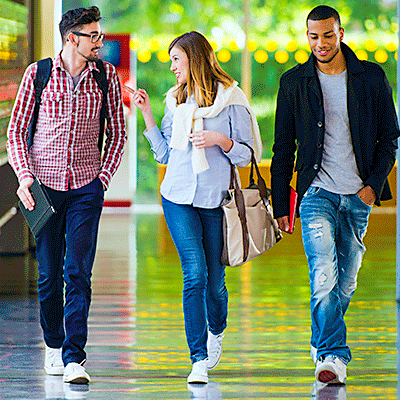 Now through May 15, the Black Hawk College Foundation is accepting applications for a variety of scholarships for the 2021-22 academic year. Scholarship opportunities are based on academic performance, financial need and/or area of study. Benefit from the generosity of the many individuals and organizations who believe in your education.
Apply now or learn more.
Grants for student laptops and Internet Access
Vital Grants—Helping Students Succeed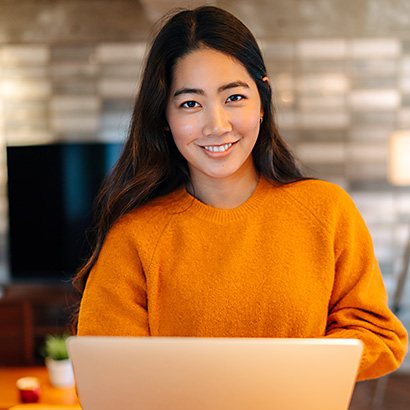 In recent months, the Black Hawk College Foundation has received three grants totaling $21,250 for the Bridge to Technology Assistance Program. The grant money is being used to help BHC students who need a computer and/or internet access so they can take college-credit classes.
In an effort to keep students safe, the college converted its courses to online except those that required face-to-face instruction. Those classes are being offered as a hybrid with online lectures and face-to-face labs.
The grant money allowed the college to purchase laptops and routers with internet service that were loaned to more than 140 students for the Spring 2020 and Fall 2020 semesters. The grants also will allow the program to continue and expand to help more students in Spring 2021.
Through these grants, we are able to empower students to continue pursuing their educational goals," said Zenaida Landeros, executive director of the BHC Quad-Cities Foundation.
Special thanks to The Quad Cities Community Foundation, The Moline Foundation, and United Way of the Quad Cities for these grant awards.
BHC receives $1 million gift from alumni Bob & Blenda Ontiveros
Alumni Bob & Blenda Ontiveros Donation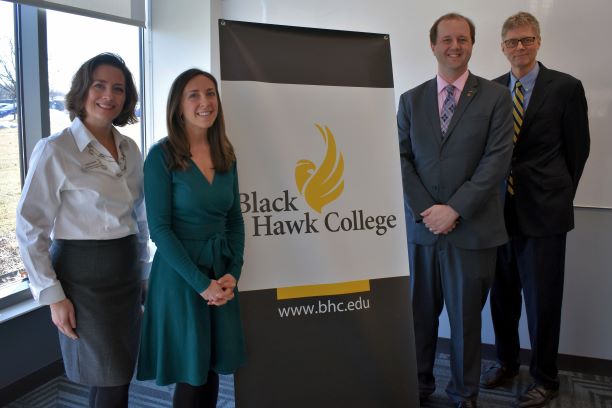 Black Hawk College is excited to announce that it has received a $1 million gift from BHC alumni Bob and Blenda Ontiveros. (Pictured above: Anne Calder, Quad Cities Community Foundation; Maria Ontiveros; Jon Looney, BHC Board of Trustees; and Tim Wynes, BHC President)
The donation comes to the college from the Bob and Blenda Ontiveros Fund at the Quad Cities Community Foundation.
It is the largest monetary gift ever donated to the Black Hawk College Quad-Cities Foundation.
"With this gift, the largest in the foundation's history, we set a new course of giving students a hand up in pursuing their dreams at Black Hawk College," said Tim Wynes, Black Hawk College president.
Maria Ontiveros spoke on behalf of her grandparents at a February 18 news conference announcing the gift.
International student excels far from home
Meet C. Blaise Kinto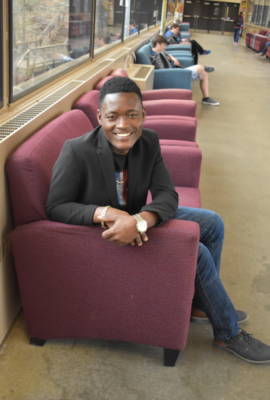 When C. Blaise Kinto arrived in the United States from Togo in 2016, he had trouble communicating. For a self-confessed social butterfly, it was rough.
He was fluent in French and Ewe, an African language, and he knew some English, but not enough to make understanding or speaking it easy.
"Being at home all the time and not being able to socialize was hard for me," Kinto said.
Soon, though, things began to change. He started at Black Hawk College and focused on learning as much as possible.
Kinto moved to East Moline to study at Black Hawk College because his brother, Yawovi, recommended it.
New Foundation Executive Director Announced
Alumna Landeros New Black Hawk College Foundation Executive Director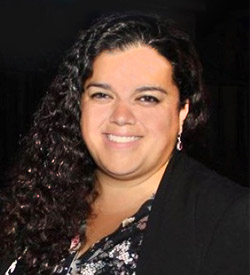 Black Hawk College alumna Zenaida Landeros is the new executive director of the Black Hawk College Quad-Cities Foundation.
Landeros has more than eight years of experience in fundraising, community outreach and nonprofit administration. She previously worked for the Greater Quad-Cities Hispanic Chamber of Commerce since 2012, becoming its executive director in 2018.
She graduated from Black Hawk College in 2005.... Read more
Four inducted into BHC Alumni Hall of Fame 2019
Recognizing outstanding individuals for their professional and community service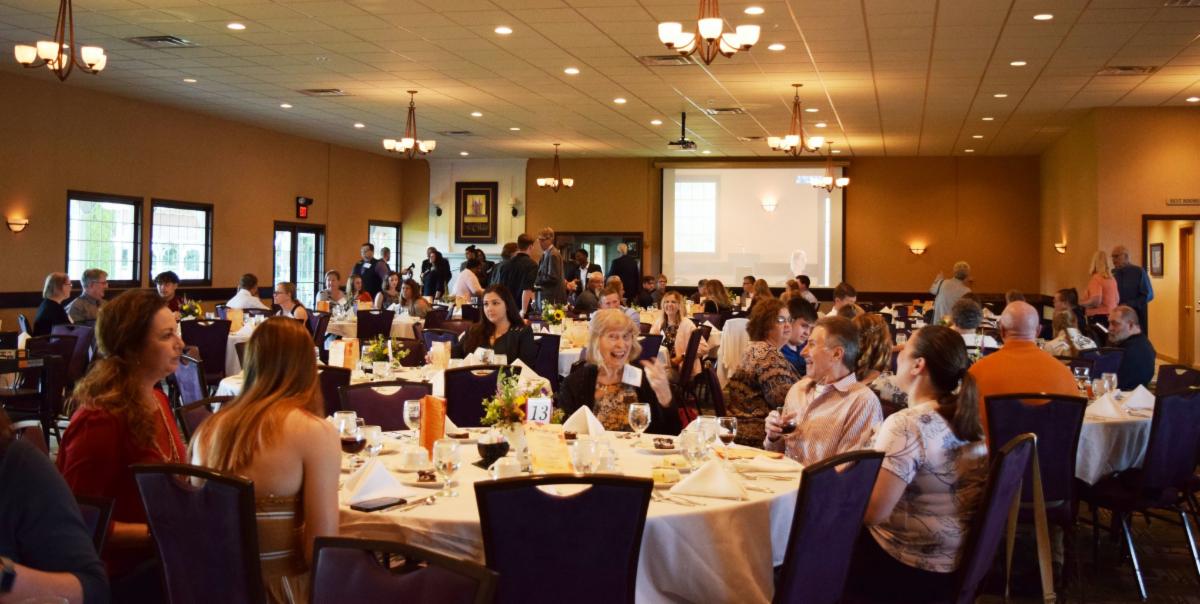 Four outstanding Black Hawk College Quad-Cities Campus alumni were inducted into the 2019 Alumni Hall of Fame at a September 25 ceremony.
Rick McGrath of Moline, Dan McNeil of Moline, the late Alan Perley and Tim Stout of East Moline joined 34 members of the Black Hawk College Quad Cities Foundation Alumni Hall of Fame.
"These alumni all took diverse career paths yet each achieved exceptional accomplishments in their respective industries. We proudly welcome them to the Alumni Hall of Fame!" said Maureen Dickinson, former executive director of the Black Hawk College Quad Cities Foundation. Read more or learn about the Alumni Hall of Fame.