Scholarship for nontraditional students
Family honors their father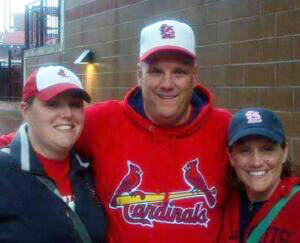 Rob Murphy (pictured) served in the U.S. Air Force for four years then worked in a tire factory for 19 years. At age 42, he decided to do something different—he enrolled at Black Hawk College. For two years, Murphy commuted more than an hour from Savanna, Illinois, to attend classes at the Quad-Cities Campus and work as a machinist at the Rock Island Arsenal. He balanced school, apprentice work, volunteer firefighting and family.
"There were many sacrifices made to accomplish it, but ultimately it was one of the best decisions he ever made," daughter Catie Campbell said.
In December 2009, he earned a Machinist Apprentice Certificate from Black Hawk College. "He was so proud of his accomplishment and we, his family, were just as proud," Campbell said.
Murphy died in July 2019 after a long fight with chronic liver disease. To honor his memory, his family has established the Rob Murphy Memorial Scholarship. Read more
Dr. Xixuan Collins
Retiring professor creates scholarship for students with disabilities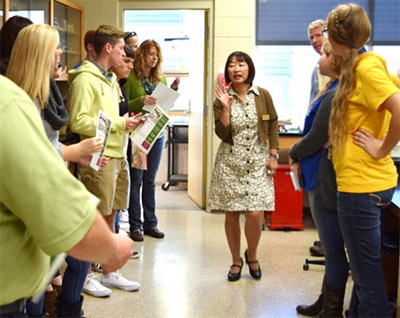 Biology professor Dr. Xixuan Collins is retiring from Black Hawk College but she and her family will be connected to the college and BHC students for years to come.
Dr. Collins and her husband created an endowed scholarship fund through the Black Hawk College Foundation at the Quad-Cities Campus. Once fully endowed, the ABC All-Star Scholarship will be awarded to students with disabilities.
"Having a child with disabilities has taught me so much about the challenges students with disabilities face each and every day," she said. The Collins' 12-year-old son, Ari, was diagnosed with autism and ADHD at age 7. The scholarship name is both a tribute to Ari and to Dr. Collins' Chinese heritage. "ABC is our son's initial, and it also stands for American-Born Chinese, and all students can be stars and shine," she said. Read more
Support BHC through John Deere Classic's Birdies for Charity Program
Birdies for Charity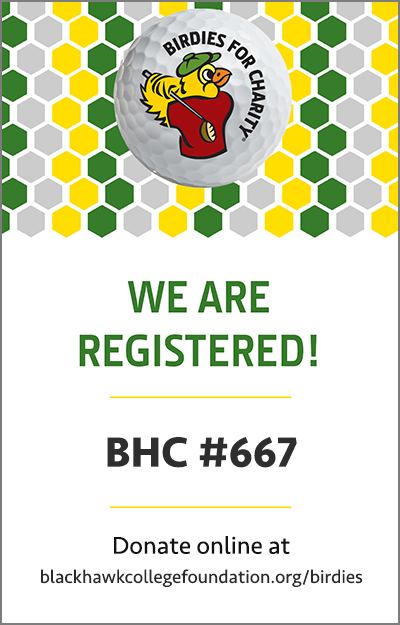 It's that time of year! The Black Hawk College Foundation is excited for the 2021 John Deere Classic! Deere & Company underwrites the administrative costs for Birdies for Charity program and promises a five percent bonus on your donation.
This year, Black Hawk College is celebrating it's 75th Anniversary. At the foundation, we are accepting donations to commemorate the college's milestone and support the creation of a Black Hawk College Forever Scholarship. If we reach our goal of $10,000, the fund will award scholarships in perpetuity. We greatly appreciate your loyalty through the years and invite your pledge support to the Black Hawk College Foundation (#667).
It's important to note that while you still have the opportunity to guess the number of birdies, the number of birdies is no longer tied to your donation. By guessing the number of birdies you'll be included in the contest to win a 2-year lease on a Lexus NX sports utility vehicle. Learn more
Thank you in advance for "chipping in for charity" with your 2021 pledge for Black Hawk College Foundation. Every bit helps the Black Hawk College Foundation fulfill its mission—achieving students' dreams. Donate today!
Dr. Diana Corley Schnapp
Former speech instructor creates a new scholarship for students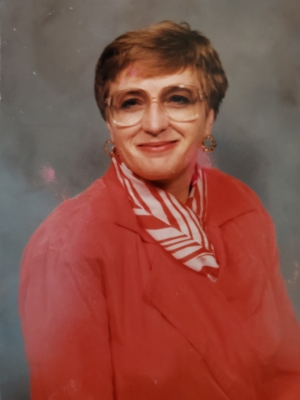 Dr. Diana Corley Schnapp taught speech at Black Hawk College for 22 years and touched the lives of hundreds of students. "The best part of my experience was getting to work with the wide variety of students," she said.
Now she hopes to touch the lives of even more Black Hawk College students with the new Dr. Diana Corley Schnapp Endowed Scholarship. "I am hoping that the scholarship will make it possible for many to reach the goal of obtaining a quality education," she said.
The need-based scholarship is open to Quad-Cities Campus students in any major.
"Because Black Hawk serves a broad range of students with differing social, educational, cultural and financial backgrounds, it makes possible the chance for people who could not attend four-year schools to begin their education and perhaps go on to other higher degrees beyond the associate," she said. Read more
2021–22 Student Scholarships
Scholarship Applications Now Being Reviewed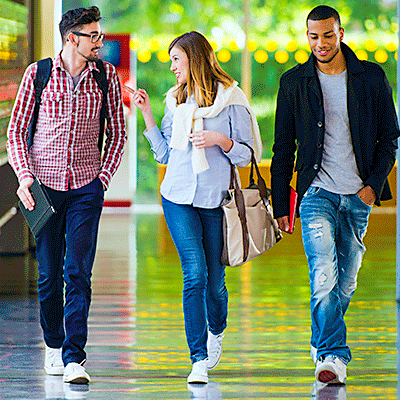 We are currently reviewing scholarship applications with announcements to be made in early July.
The majority of scholarships are awarded for the fall semester of the entire year—though some exceptions may exist. General eligibility criteria is listed for each scholarship, though additional terms and conditions may affect eligibility.
Scholarships are based on some or all of the following criteria: academic performance, financial need and/or area of study.
Grants for student laptops and Internet Access
Vital Grants—Helping Students Succeed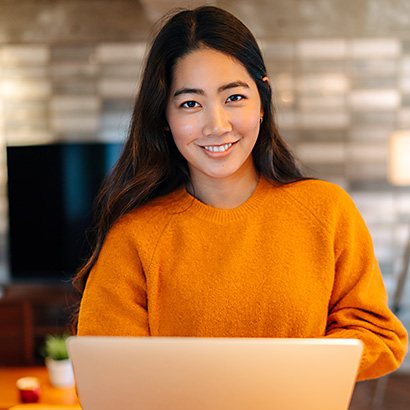 In recent months, the Black Hawk College Foundation has received three grants totaling $21,250 for the Bridge to Technology Assistance Program. The grant money is being used to help BHC students who need a computer and/or internet access so they can take college-credit classes.
In an effort to keep students safe, the college converted its courses to online except those that required face-to-face instruction. Those classes are being offered as a hybrid with online lectures and face-to-face labs.
The grant money allowed the college to purchase laptops and routers with internet service that were loaned to more than 140 students for the Spring 2020 and Fall 2020 semesters. The grants also will allow the program to continue and expand to help more students in Spring 2021.
Through these grants, we are able to empower students to continue pursuing their educational goals," said Zenaida Landeros, executive director of the BHC Quad-Cities Foundation.
Special thanks to The Quad Cities Community Foundation, The Moline Foundation, and United Way of the Quad Cities for these grant awards.
BHC receives $1 million gift from alumni Bob & Blenda Ontiveros
Alumni Bob & Blenda Ontiveros Donation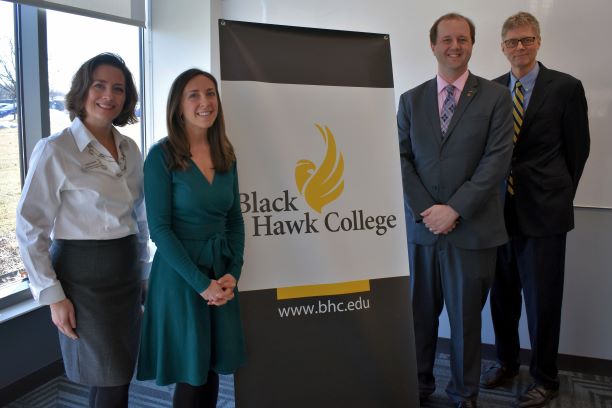 Black Hawk College is excited to announce that it has received a $1 million gift from BHC alumni Bob and Blenda Ontiveros. (Pictured above: Anne Calder, Quad Cities Community Foundation; Maria Ontiveros; Jon Looney, BHC Board of Trustees; and Tim Wynes, BHC President)
The donation comes to the college from the Bob and Blenda Ontiveros Fund at the Quad Cities Community Foundation.
It is the largest monetary gift ever donated to the Black Hawk College Quad-Cities Foundation.
"With this gift, the largest in the foundation's history, we set a new course of giving students a hand up in pursuing their dreams at Black Hawk College," said Tim Wynes, Black Hawk College president.
Maria Ontiveros spoke on behalf of her grandparents at a February 18 news conference announcing the gift.
International student excels far from home
Meet C. Blaise Kinto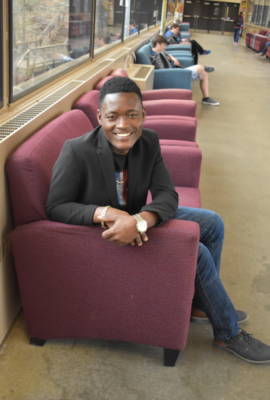 When C. Blaise Kinto arrived in the United States from Togo in 2016, he had trouble communicating. For a self-confessed social butterfly, it was rough.
He was fluent in French and Ewe, an African language, and he knew some English, but not enough to make understanding or speaking it easy.
"Being at home all the time and not being able to socialize was hard for me," Kinto said.
Soon, though, things began to change. He started at Black Hawk College and focused on learning as much as possible.
Kinto moved to East Moline to study at Black Hawk College because his brother, Yawovi, recommended it.
New Foundation Executive Director Announced
Alumna Landeros New Black Hawk College Foundation Executive Director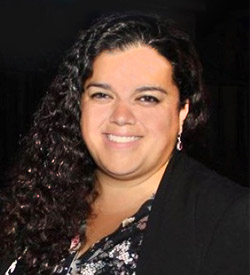 Black Hawk College alumna Zenaida Landeros is the new executive director of the Black Hawk College Quad-Cities Foundation.
Landeros has more than eight years of experience in fundraising, community outreach and nonprofit administration. She previously worked for the Greater Quad-Cities Hispanic Chamber of Commerce since 2012, becoming its executive director in 2018.
She graduated from Black Hawk College in 2005.... Read more
Four inducted into BHC Alumni Hall of Fame 2019
Recognizing outstanding individuals for their professional and community service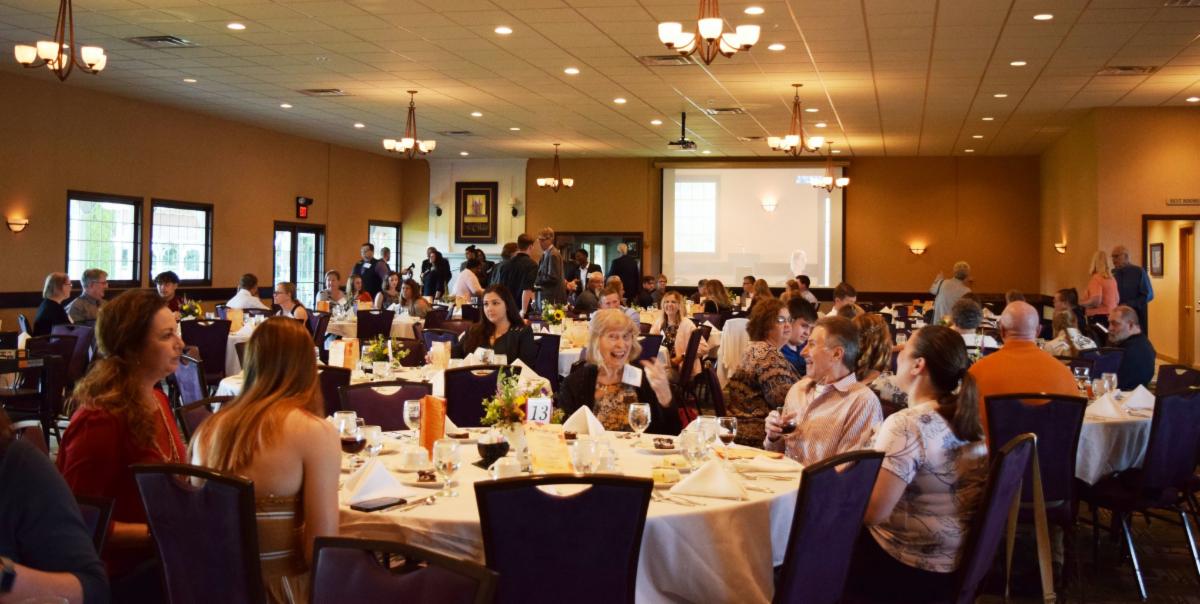 Four outstanding Black Hawk College Quad-Cities Campus alumni were inducted into the 2019 Alumni Hall of Fame at a September 25 ceremony.
Rick McGrath of Moline, Dan McNeil of Moline, the late Alan Perley and Tim Stout of East Moline joined 34 members of the Black Hawk College Quad Cities Foundation Alumni Hall of Fame.
"These alumni all took diverse career paths yet each achieved exceptional accomplishments in their respective industries. We proudly welcome them to the Alumni Hall of Fame!" said Maureen Dickinson, former executive director of the Black Hawk College Quad Cities Foundation. Read more or learn about the Alumni Hall of Fame.