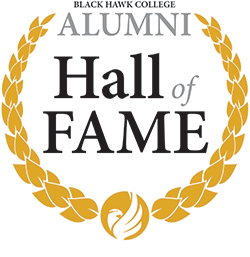 2023 Alumni Hall of Fame Inductees
We are honored to induct the following BHC alum into the Hall of Fame.
Black Hawk College has a longstanding tradition of excellence. The Hall of Fame recognizes outstanding individuals for their professional and community service. Inductees are selected using two fundamental criteria: outstanding distinction and success in their chosen field; and, secondly, Humanitarian service, which has proven beneficial to society.
Kenneth E. Allison
Class of 1977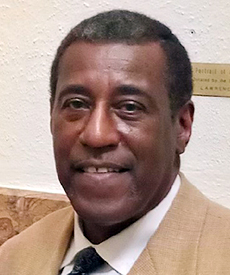 East Moline native Kenneth E. Allison was the first black male program manager for the State Health Facilities Department of the Colorado Department of Public Health and Environment, leading a team of nurses, social workers and dietitians in inspecting hospitals and nursing homes.
He also worked as a federal health quality review specialist with the Survey and Certification Branch in the Centers for Medicare and Medicaid Services of the U.S. Department of Health & Human Services.
As a member of Alpha Phi Alpha Fraternity Inc., Allison has participated in community service activities such as setting up and delivering more than 1,000 Thanksgiving food baskets to low- income families, sick and shut-in individuals; working on math and science tutoring programs for students in fifth grade through high school; providing financial assistance to young men with 2.5 and above GPAs who are considering attending college; and participating in and making donations to cancer research and 5K fundraising runs.
Allison served as vice president of the American Federation of Government Employees AFL- CIO Local 1923 and treasurer for Eta Sigma Gamma professional health science honorary. He attended the Congressional Black Caucus and the Governor's Council on Physical Fitness where he presented concerns on the state of Black progress, health and leadership with senators. He had the honor of attending President Barack Obama's second term inaugural address.
Through Big Brothers Big Sisters of Colorado-Denver Office, he mentored seven little brothers – three went on to college, three joined the military and one is married with children.
As a Black Hawk College student, Allison earned a varsity letter as a member of the track team that won the state outdoor championship in 1976. He also was included in the 1977 Talent Roster of Outstanding Minority Community College graduates.
Kay Hazen
Attended 1973-74
As a Black Hawk College student, Kay Hazen spent many hours producing class lectures and content for broadcast on local cable television. She was a radio DJ for the college radio station and hosted mobile broadcast of on-site commencement ceremonies and a regularly scheduled cable news show from the BHC studios.
In 1974, Hazen was recruited out of college by Galesburg Cottage Hospital to create and produce content for nurse, physician and patient education for the health care system. In 1986, she joined Desert Hospital in Palm Springs, CA, as one of its two top female administrators, leading professional and outpatient services before joining Mine Reclamation Corporation in 1992 as vice president for public/government affairs. She launched her own public affairs firm in 2000.
Since then, she has worked with a wide variety of public and private clients to permit development projects, create business improvement districts and economic blueprints, build solar projects, increase access to higher education, develop plans to help save the Salton Sea, and work to address a wide variety of critical issues and significant projects throughout the region.
For 18 years Hazen served on the publicly elected board of trustees for Desert Healthcare District and Foundation. She was a founding board member of the Coachella Valley Economic Partnership, the Regional Access Project Foundation and the Friends of the Desert Mountains land trust.
She also was chair of the Palm Springs International Film Festival, president of the American Heart Association Desert Division and president of the Palm Springs Chamber of Commerce, which awarded her the Corporate Athena Award for leadership.
Hazen will be honored for leadership this year by Palm Springs Life as a recipient of their Lifetime Achievement award and be featured in the magazine's May 2023 issue.
Robert "RB" Thompson
Class of 1962
Moline native RB Thompson is a retired high school math teacher, cross country coach, city council member, parks and recreation commissioner, non-profit organization president, and writer.
From 1967-2005, he taught mathematics at Woodstock High School in Woodstock, IL. He also served as the advisor to the Math Team and the Student Council. He was the Illinois State Board of Education advisor for mathematics issues for three years and president of the Illinois Council of Mathematics Teachers (1998-99) and president of the Northern Illinois Association of Teachers of Mathematics (1995-96).
In 14 seasons as a high school cross country coach, he compiled a dual meet record of 331-104-3 and had 34 boys and 21 girls qualify for state meets. In 1976, his girls team won an unofficial state meet and placed second in the nation in the Track & Field News Postal Meet. He also was instrumental in establishing girls cross country as an Illinois High School Association sport.
In the community, Thompson served as a parks and recreation commissioner for 23 years, a city council member for 18 years, president of the McHenry County Peace & Friendship Festival, and president of Court-Appointed Special Advocates of McHenry County.
He spent 1965-66 as a U.S. Peace Corps volunteer at Kilimanjaro Cooperative Secondary School for Boys in Tanzania as a basketball, field hockey, track and field, soccer and volleyball coach. In August 1966, he climbed 19,340 feet to the top of Mount Kilimanjaro.
From 1958-62 he attended Black Hawk College's predecessor, Moline Community College, where he excelled as a basketball and baseball player and sports writer/editor for the college yearbook and newsletter. He was inducted into the Black Hawk College Athletic Hall of Fame as a member of the 1958-59 men's basketball team.