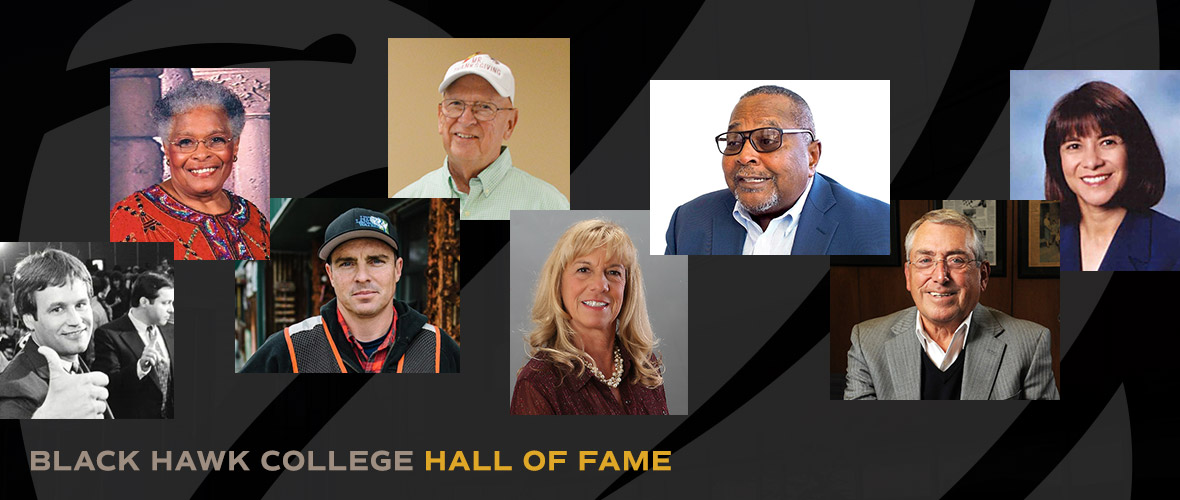 Black Hawk College has a longstanding tradition of excellence. The Hall of Fame recognizes outstanding individuals for their professional and community service, including such notable graduates as Unit ed States Representative Lane Evans; Rose Vasquez, Diversity Analyst at Principal Financial Group; Robert Ontiveros, Chairman and Founder, Group O; and nationally recognized Chad Pregracke, founder Living Lands and Waters.
Members are selected using two fundamental critiera: 1) Outstanding distinction and success in chosen field; 2) Humanitarian service which has proven beneficial to society. (Nominees must have at 30 college credit hours or more at Black Hawk College).
Nominate an Alumnus. Simply complete our online nomination form.


Hall of Fame Members
Dr. Stewart Adams
James D. Albracht
Monty Dolieslager
U.S. Representative Lane Evans*
Reggie Freeman
Michael L. Grcha*
Gordon Greer
Perry Hansen
Lt. Cmdr. David Hebdon
Vera Hinrichsen
Rick John
Richard Kauzlarich
Lee Lohman
Virgil Mayberry
Allen R. McCaulley
Rick McGrath
Dan McNeil
Brent McRae
Margarita Mojica
Steven L. Nelson
Patricia O'Conor
Robert Ontiveros
R. Dale Owen
Jewell Perkins
Alan Perley*
Chad Pregracke
Thomas A. Rexdale
Dr. Jeanne Roller
Scott Schaefer
Dr. James Sears
John A. Slover, Jr.
Tim Stout
John A. Tacker
John Thodos
Linnea E. Thompson
Steve VanDeWalle
Rose Vasquez
Bob Vogelbaugh

Recent Inductees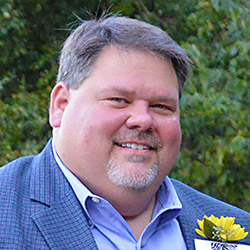 R. Dale Owen
Dale graduated from Black Hawk College with a Certificate in Banking and Finance and an Associate of Applied Science in Banking and Fina nce. He received his undergraduate degree from Augustana and a Masters in Public Administration from Drake University. Dale has been with Ascentra Credit Union in Bettendorf since 2000. He was Chief Lending Officer for several years. Currently Dale is Ascentra's President and Chief Executive Officer.
Margarita Mojica
Margarita studied elementary education and graduated with an As sociate in Arts, being the first member of her family to graduate fr om college. She continued her studies at Western Illinois University, earning both a Bachelor of Science degree in bilingual education and a Masters in Education. An educator for many years, Margarita is known thr oughout East Moline School District 37 as being supportive of all ar eas of the District. She founded and coordinates the One by One program at Glenview Middle School, which supports students interested in becoming the first in their families to go to college.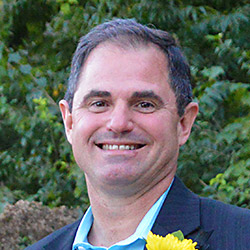 John Thodos
John studied liberal arts and graduated in 1983 with an Associate in Arts. He then attended St. Ambrose University and earned a Bachelor of Arts in Business and Economics. After a successful career as real estate agent and developer, John became active with the city of East Moline. He served as alderman from 1995 to 2003, as mayor from 2005 to 2017, and assumed the role of City Administrator while concurrently serving as mayor. John currently serves as the United States Army Reserve Ambassador to Illinois, which oversees the scholarship program for Army Reserve students in Illinois who are attending a 2-year or 4-year college or university.
Ways to support Black Hawk College
There are numerous ways to support Black Hawk College. If you have other ideas in mind, please contact us.