Support Black Hawk College
These are challenging times for many of us, and we hope you're in good spirits and health! While there's a lot of uncertainty, we know that we need to adapt fast to our changing reality. Now, more than ever, our student community needs us. And we need you.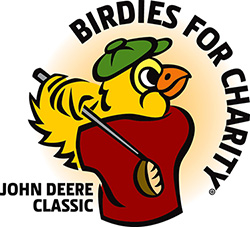 Typically, this time of year the Black Hawk College Foundation is excited for the John Deere Classic. While the classic has been canceled, we are grateful that the 2020 Birdies for Charity program will continue. Thankfully, Deere & Company underwrites the administrative costs for Birdies for Charity program and promise a five percent bonus on your donation. Historically, support from Birdies for Charity provides the foundation resources so we can immediately respond to emergency circumstances, helping students focus attention on their studies by removing financial obstacles. We greatly appreciate your loyalty through the years and invite your pledge support to the Black Hawk College Foundation (#667).


Birdies for Charity Form
Donors are encouraged to make their pledges electronically to reduce the number of paper touch points normally involved in the process. Each penny pledge received will be converted to a flat $20 donation, and all donors will be eligible for a random drawing for the traditional prizes, including the grand prize of a 2-year lease on a Lexus NX sports utility vehicle. To be eligible for the prizes return your official pledge card (PDF) or donate online (Black Hawk College is #667) by July 10, 2020.
If you're unable to donate at this time, there are many other ways you can support us! You can advocate for us by sharing our mission with a family member or friend. Even a quick mention on your social media would mean the world to us. In times like this, we're reminded of how interconnected we all are.


Birdies for Charity Form
Thank you in advance for "chipping in for charity" with your 2020 pledge for Black Hawk College Foundation. Every bit helps the Foundation fulfill its mission: achieving students' dreams.


Zenaida Landeros, Executive Director
Black Hawk College Foundation